I wasn't always a (wine) snob. I have loved wine for years, but I used to be satisfied with
boxed
wine;** as long as it was Angel Juice, Bota Box or Black Box. Lately, however, I've only liked it straight from the bottle. Well, in a wine glass
from
a bottle, don't worry. :)
We've tried all different types of wines. Ben, along with our houseguest, Katie, and I realized Sauvignon Blanc is all of our favorite. It's my favorite by long shot;** even considering I had to google the spelling.
Trying different
bottles
(ooh la la) of Sauvignon Blanc means we've been trying many different brands and regions of wine. We've narrowed our favorite wines down to the following:
Cupcake Vineyards (~$10/bottle*)

Starborough (~$14/bottle*)

Kim Crawford (~$17/bottle*)

Nobilo (~$13/bottle*)
Any of those four wines will make your mouth water and your taste buds tingle (I am a dork).
Here's the sad part thought - A bottle of this deliciousness goes fast. See below: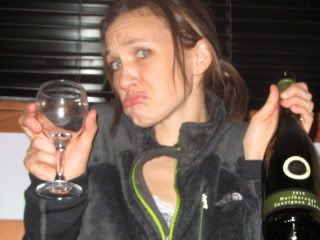 Here's the fun part though - They are all from the same region, Marlborough, in New Zealand. What a coincidence!
So I thought...Hmm...We should save up for a trip to the Marlborough region. Well ha ha ha - Joke is on me. Check out the tickets for plane tickets alone. Gross!
Anyway, PLEASE, if anyone is reading this, PLEASE buy yourself a Sauvignon Blanc from New Zealand. You will not regret it.
Everyone's doin' it (in our house)!
*Prices are all total guesses!
**I am trying to learn the correct usage of the semicolon. Please correct any mistakes I made.